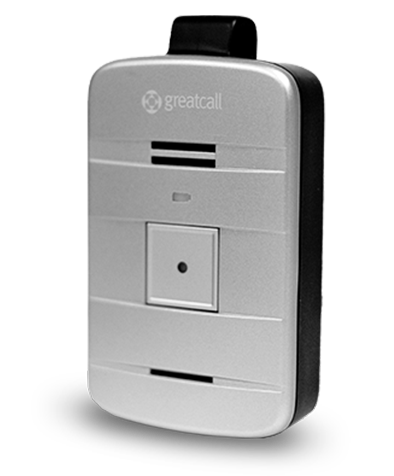 Leading The Way In Mobile Health & Safety
Introducing the Lively Mobile medical alert device from GreatCall®, the leader in mobile health and safety and the creators of the original Jitterbug® cell phone.
While most medical alert devices limit their use to your home, the Lively Mobile works wherever you go. It's powered by the largest and most dependable wireless network, so it works when you need it, no matter where you are – at home, a community event, even visiting family out of town. And, with its waterproof design, you can take the Lively Mobile with you in the shower. Just press the button to speak immediately to an IAED (International Academies of Emergency Dispatch) Certified 5Star® Agent, who will get you the help you need.
Gila River Telecommunications, Inc. provides the Lively Mobile medical alert device with GreatCall services free of charge as one of many GRTI customer benefits.
Press the button to establish two-way communication with a GreatCall agent.
An agent will speak directly with you through the device.
Using GPS, an agent will confirm your location and evaluate the situation.
Agents can call emergency services, get roadside assistance, or even a locksmith*. Most importantly they can even contact family or someone you authorize.
The agent can stay on the line with you until your situation is resolved.
5STAR SERVICE

 

- Highly trained Agents to help you at any time.
GREATCALL LINK

 

- Easily stay connected with family and friends using the app.
URGENT CARE

 

- 24/7 access to registered nurses and board certified doctors.
FALL DETECTION

 

- Automatically calls a 5 Star Agent for help when a fall is detected, It works where you go!
Also Available, The GreatCall Link Smartphone App
Available in the Apple App or Google Play store on your smartphone for family members or caretakers.
Get notifications when you press the button to contact 5Star.
Get directions to the last known location of your Lively.
Identify the battery level and whether your Lively is powered on or off.
View a summary of your daily activities based on the known locations setup in your Personal Emergency Profile.
how to setup a mygreat call account
How do I get a GreatCall Unit?
Contact Tribal health Injury Prevention Program (THIPP) at
(520) 562-5100
THIPP will complete a home assessment.
THIPP will determine a need for a GreatCall unit and forward a request to GRTI.
GRTI creates a work order.
GRTI schedules installation appointment of grant provided GreatCall unit.
Contact the Tribal Health/Injury Prevention Program at (520) 562-5100 for an assessment.
When should I charge my device?
When the battery is low, the Battery Indicator will flash red and you will hear a tone reminding you to charge. The tone will repeat more frequently as the battery level decreases further. If the battery loses all of its charge, the device will power off. The Lively Mobile will power back on shortly after being placed back into the charging dock. We recommend charging your device every night.
In the case of an emergency, the GreatCall unit is activated by pressing a button on the unit or pendant which contacts a 5 Star Agent.
*The GreatCall unit is provided at 
NO COST
 to those on the Gila River Indian Community with a medical necessity. GRTI is not responsible for costs accrued by emergency medical services, roadside assistance, or locksmith services, those costs will be the sole responsibility of the customer.